Thursday, July 14, 2005
For Lingwei. There I did it!
1. YOUR STAR NAME
(name of first pet + street you live on):
Baron Brickfields (awesome!)

2. YOUR MOVIE STAR NAME
(grandmother's/father's first name + favorite snack):
K Chips (I'll leave my fathers name shortened... too long)

3. YOUR FASHION DESIGNER NAME
(first word you see on your left + favorite restaurant):
Ban Marios

4. YOUR SOCIALITE NAME
(silliest childhood nickname + first town where you partied):
vin bangsar

5. YOUR "FLY GIRL/GUY" NAME
(first initial + first three letters of your last name):
Vhan

6. YOUR DETECTIVE NAME
(favorite animal + name of high school):
Dog St. John

7. YOUR BARFLY NAME
(last snack food you ate + your favorite drink):
Kuaci Whisky

8. YOUR SOAP OPERA NAME
(middle name + city where you were born):
Vinu KL (no middle name)

9. YOUR ROCK STAR NAME
(favorite candy + favorite musician's last name):
Crunchie Inaba

10. YOUR OPPOSITE SEX NAME
(name of [opposite sex] friend + cell phone company you use):
Serene Optus

11. YOUR STAR WARS NAME
(first 3 letters of your last name + last 3 letters of mother's maiden name /+/ first 3 letters of your pet's name + first 3 letters of the town you live in)
Kamlee Rhewil (nice)

12. I know this is a name test but, name three people you want to take this test.
wen wei
ronz
hsin

fill your boredom...


vinu565
held on
@ 05:23 pm
Bloodline
Thursday, June 30, 2005
Bond Crisis!! Terror rain devours Gold Coast City
GOLD COAST, June 30:
Strong Gale winds ripped Gold Coast apart with tyrannical rain
resulting into consecutive down pours for the past 3 days. The Bureau of Meteorology of
Australia forcasted massive winds similar to a typhoon and warned residents to be prepared
as waves as high as 5 metres were scheduled to occur. Gold Coast's most prominent
private university Bond Uni was equally affected by the showers. Highly acclaimed Bond Law
student, Vinu said that he was rudely awakened by a gargantuan gust of wind and rain
in the wee hours of the morning to discover the campus grounds was completely devastated.
This is what he said
"Whoah, Dude..."
A very intriguing statement which gives a hundred
meanings.
Other parts of Gold Coast affected was the Coolangatta Airport which was shut down almost
immediately as it was hazardous for aircrafts to land. Pacific Fair, Gold Coast's shopping
centre was evacuated to avoid any liabilities if casualties occured. Their spokesperson s
aid this,
"...we were afraid of the public's safety".
Yeah right!
-
Reuters-

A sombre feeling in the atmosphere
Rescue initated at North Tower
Bond University submerged
vinu565
held on
@ 04:54 pm
Bloodline
Friday, June 10, 2005
End of Sem Bash / Holidays and Poo! (You read right, Poo)
Raise the curtains, shine the limelight, cause the man is back for another entry...
*Applause* light is blinking furiously... That is the cue for you guys to start clapping. CLAP!!
Haha... Ok another jot for remembrance, Lets start with my holidays which I promised to
update. Well, exams was a bitch as usual and I can guarantee everyone felt the same as I did,
Then came the day we were all looking forward to, End of Semester Bash!
:: This is Don's Tavern on End of Sem Bash::
The whole was bustling mad, the reason why? Its becasue all the Yankees would be
leaving back to their country, and leaving us with an anticipated quiet May semester.
Thank God! Well, not only the Yankees were leaving but 2 of my other friends too,
Josie and Pav. It was a good night though, and thus with the end of that marked the
begining of the Holidays...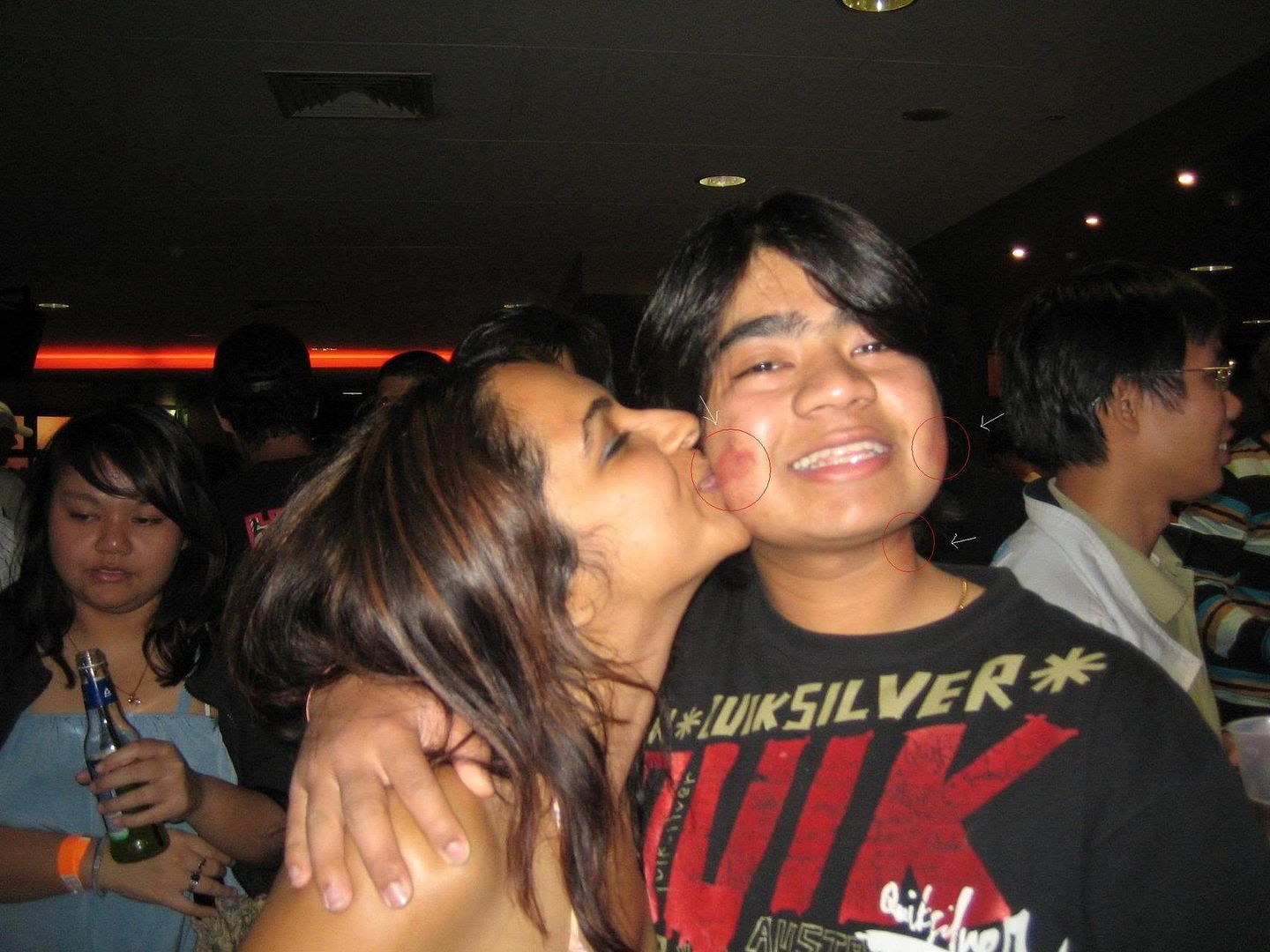 ::Pav! Take care~::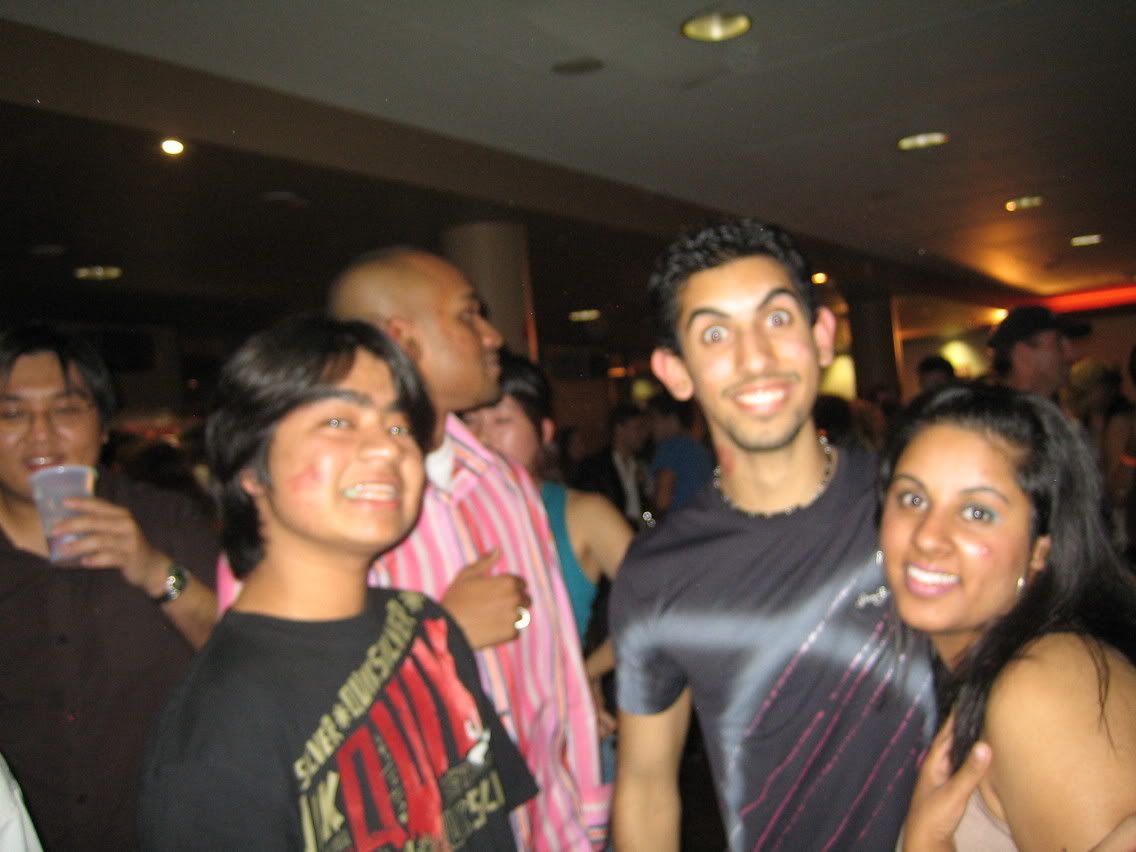 ::Did I mention, I felt like the luckiest man on earth::
::Btw, thats Prabhu,Bhavish and Ruby::
Alright moving on...
Two word to describe my holidays, Abso-bloody-fcuking-lutely great... Why, you may ask?
Well, first week of holidays was so depressingly quiet i felt like i was solitarily confined
in my room and was segregated from society... There was NO ONE on campus! As
i stayed back in the holidays as I couldnt be buggered to go home. Went to harbour town
with Arpana, Josie and Rima (i think, she is japanese) oh before I forget, Arpana is
an Indian born in Japan ( how cool is that). Anyways, in the next couple of days I ended
up going to Harbour town AGAIN~ This time by bus... Word of Advice dont ever take the
bus, as its painfully boring and the journey is long. Holidays for me ACTUALLY begun
when my family from Brissie came down for the weekend as it was ANZAC day. Well,
it was yonkers since I caught up with my family and my cousins. I basically spent the
whole holidays in Brissie. Did I mention before that my uncle is a fantastic cook?
No? Ok, now you know... He is also the only person I know who would go to an
Indian restraunt with his own concoction of
chutney
... haha, yeap thats right...
He whooped out a mad pot of chutney and took it to the restaurant, and also shared it
with the rest of the customers and told the boss that he made horrifying chutney. LoL..
I also got into watching a new sport thanks to my aunt, and I can proudly say that
I am an official NRL (national Rugby League) Bronco's fan. Yes... Rugby! Go Broncos!
We went to watch it live at the Suncorp Stadium and the atmosphere there was
electrifying, suspensing, thrilling, tense and... just sensational.
My uncle recently purchased a 24 footer crusier boat worth $105,000 into his inventory.
Magnificent regal looking boat to put in simple terms. My cuz took me out on it one
day, and well here comes the embarassing part of this entry... I helped myself
to a huge serving of my uncle's sambal not knowing how deadly it was.
It was bad as my tummy rumbled like kingdom come and when we were at sea,
the mad ocean was as rough as guts did not help the situation. Put it this way...
we were in the middle of ocean and I needed to
choke-a-local
(Take a huge shit!)
So, you guessed it I had to give way to nature's call and
ehem
did it... (dalam tandas, ok)
The special chilli coated
poo-poo
floated to the back of the boat where my cousin
and his mates were fishing and WERE they SUPRISED to see flouroscent looking
buoys

floating.... HAHAHA... man was that funny!
That sums up my holidays!! Pics of the trip shuould be up soon....
vinu565
held on
@ 06:40 pm
Bloodline
Wednesday, May 04, 2005
The anticipation is over, the much awaited update would be up soon

This I PROMISE!
vinu565
held on
@ 02:07 am
Bloodline
Monday, March 28, 2005
The phone woke me up at exactly 0800 hours. The voice on the other side told me of
a briefing at 1030 told me to make haste. I lazyly abided with the command and headed
to the showers to prepare myself for what was ahead. Got myself ready and the phone
struck again at 1025 hours, "...gather up at the rendezvous point", it said.
Got my canteen and buckled my shoes and headed to the meeting point to be amazed
to see other fellow brothers waiting and anticipating for the arrival of the big guns.
The wait was unbearable, there was uncertainty to the exact area where the drop off
was supposed to be. There were several map analysts working on the drop zone and
the sight of all 6 infantry vehicles sent shivers down our spines. 1050, the clock struck
and finally everyone was there, "Listen up, we are to go in a convoy of 6 to the dropzone,
and please synchronise the radio frequency so that we can communicate if we were
to separate", the voice boomed. "We all agreed to this, there is no room for turning back,
if we go, we go in honour and come back with our heads high", the voice continued and
we left. I headed off in Private Zuri's vehicle with Komissar Foo, to carry on what we all came
for today, it has begun, as what Major Foo called it ... Codename Operation Bunny Eater.
All 6 vehicles departed at 1100 hours and were scheduled to arive before 1200 hours
at a place called Ipswich. "Ipswich!?!", I thought.... where have I heard that place before
and just shrugged it off. We had to take the M1 route and detoured off the Toowomba
exit and kept on going. The journey there was a quiet one, we did not know what to
say and the silence slowly crept unto us. After about an hour on the track we finally
arrived at Ipswich and then it struck me... Ipswich! thats where my uncle lived,
I have been here before and now im gonna battle here. It shall be known as the Battle
of Ipswich, I thought and people will remember me as one of the brave ones who fought
here. We arrived at a rather off road dirt track and stopped. Everyone started emerging
from their vehicles and we knew this was it, this was the place, the dropzone.
We went to the officer in charge and as expected we were anticipated by them. We
were informed to sign forms for clearance of weapons and ammo. We geared up in the
overalls provided and met 4 other comrades and were given another briefing of
the situation and also given goggles to prevent head shots or other injuries.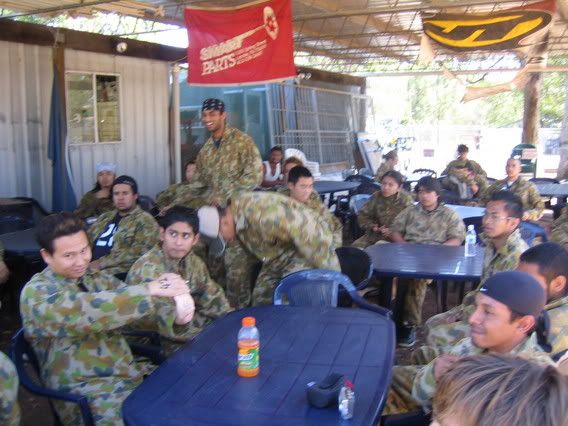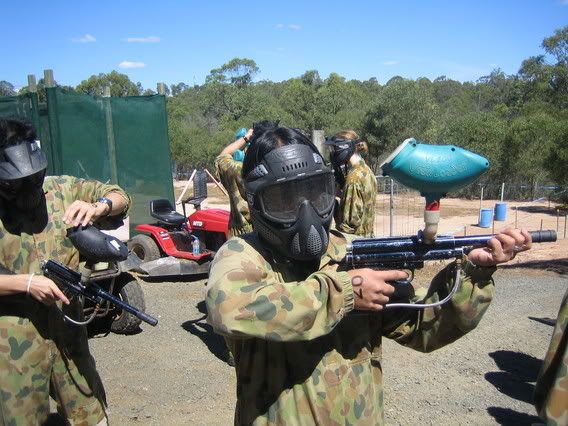 The arsenal officers then handed us each a semi-automatic rifles with 100
bullets and were given yet another briefing about handling of those weapons.
It was set then, the friendship bonded will be finally be tested in the warzone and were
led to the first field, the aim... capture the flag and head it back to enemy territory.
We were the 'Green Berets' and the enemy the 'Black Flack'. It started off as if
we were being overpowered, the enemy was overwhelming and it was even more
surprising when I heard one of the opposition members was Private Zuri's very own
flesh and blood, Zam. I knew how he felt about goin against his brother, but war
is war... Halfway through the battle as bullets were flying and ricocheting everywhere,
I saw what seemed to be Komissar Foo was valianttly running towards the flag and heading
to enemy territory was shot directly in his head... the familiar colored substance started
to ooze out and both Zuri and I knew Foo was out. It was upto us now, we ran and started
backing up the remainding comrades taking down an enemy at time, firing anythign that
moved. When finally grief hit me.. I had accidentally struck down a fellow brother.. I shot
him in the neck, an act of friendly fire... i knew it was not the end and grabbed the flag
and was about to make a run when the referee called out and the game ended...
The battle of Paintball was not yet over as it went on for several more hours, with
the team singing songs as Ibu Pertiwi and we finally won... the skirmish was over!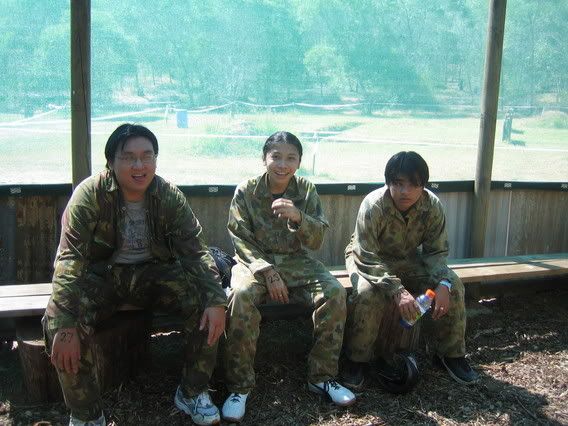 The late Komissar Foo, Private Zuri and newly appointed General Vinu
::He shall be remembered::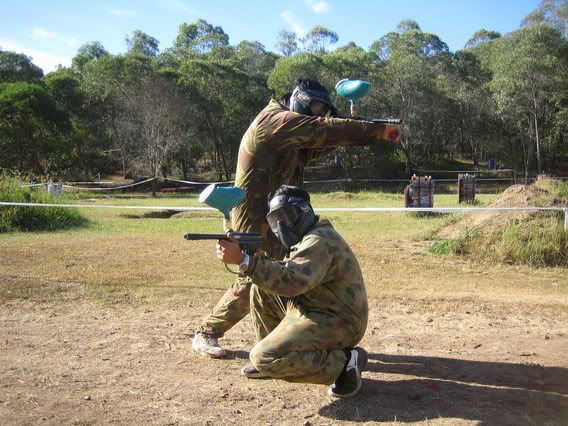 Foo and I ready for war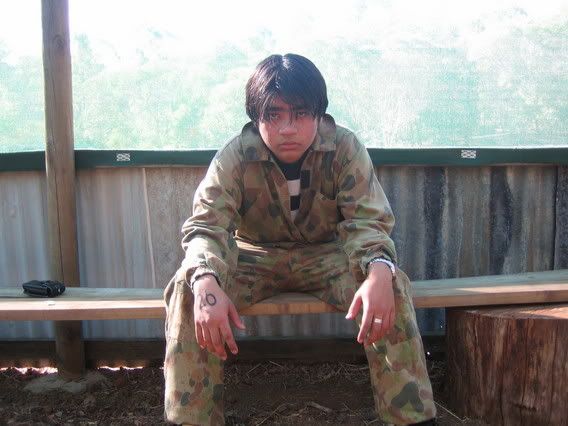 Grief struck, I was known initially as Number 26
vinu565
held on
@ 08:11 pm
Bloodline
Sunday, March 20, 2005
Fucked by the fickle fingers of fate
What a day it had been, I dont know whether i should be amazed or surprised
with the sudden turn of unfortunate events, simply put the day had been devastatingly
calamitous. Why? A very good question to be answered. Was because of the sudden
shift in the astronomical alignment or just pure black luck, I just dont know...
"Drama makes the world go around,

Has anybody got a problem with that"

Limp Bizkit-Livin' It Up

Well I have a problem with that, so
fuck
you! This past week has just been like
an episode of Neighbours, drama-like situations erupting to blood and tears (
well not forgetting the occasional fun and drinks). Arghh... fuck ranting it over here!
I just bloody-
fucken-
hope the stars shift back to propotion because i am sick and tired
with all the bullshit happening around me. Everyone should just grow up and stop
acting like fucking
derros
(derelicts), stop thinking like you are the world cause
this is so frustrating to keep all parties happy, frankly i am
just
cheesed
off~!
vinu565
held on
@ 09:27 am
Bloodline
Friday, March 18, 2005
First and Foremost, Happy Patty's Day!!
Seems to be yonkers since i have actually updated, Im sorry dear blog
for avoiding you, my bad (NOT)...
Green, green was the color most seen yesterday, from green shirts to green thongs,
The day that was being celebrated was St.Patricks Day and well fuck words...
These are the pics that were taken in DON's Last Night...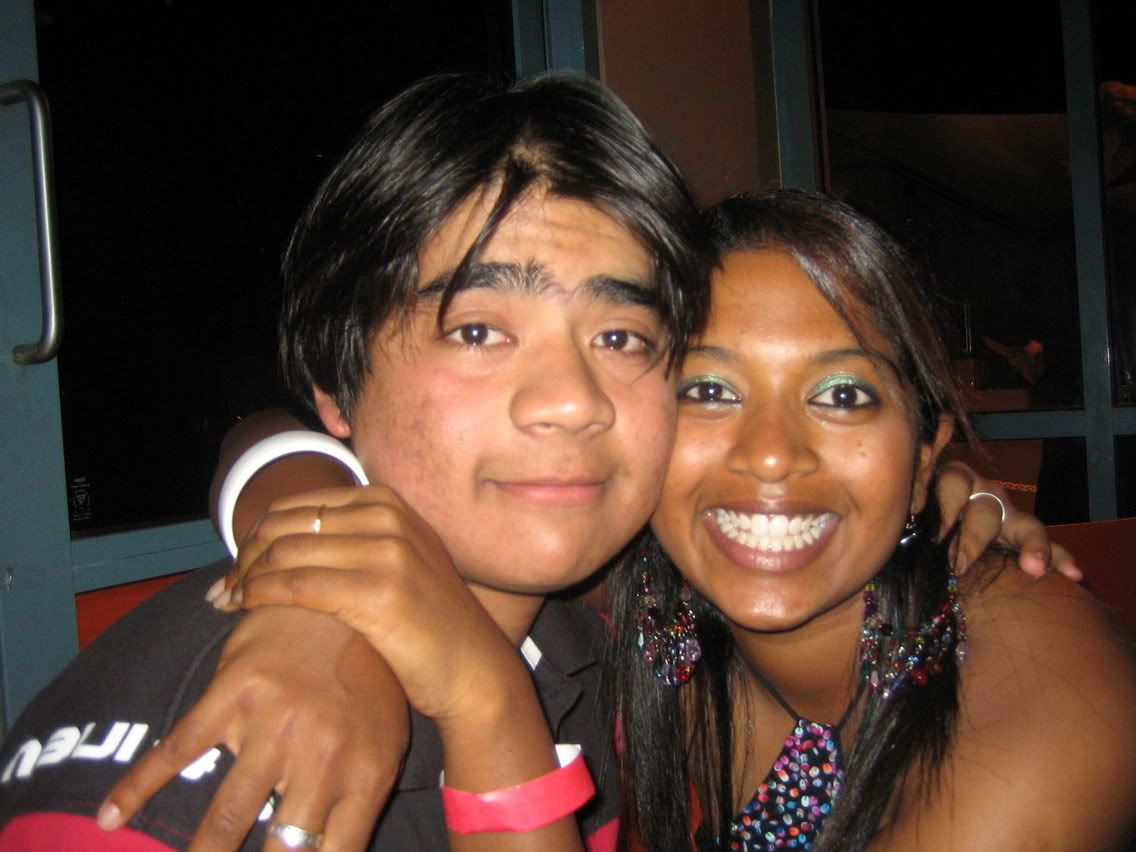 ::Baby Shantz and me::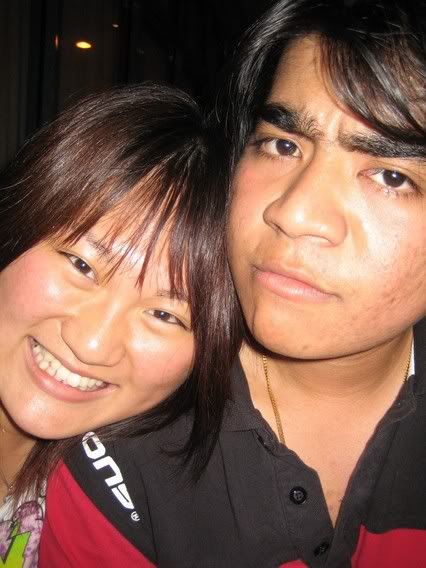 ::Gorgeus Serene!!::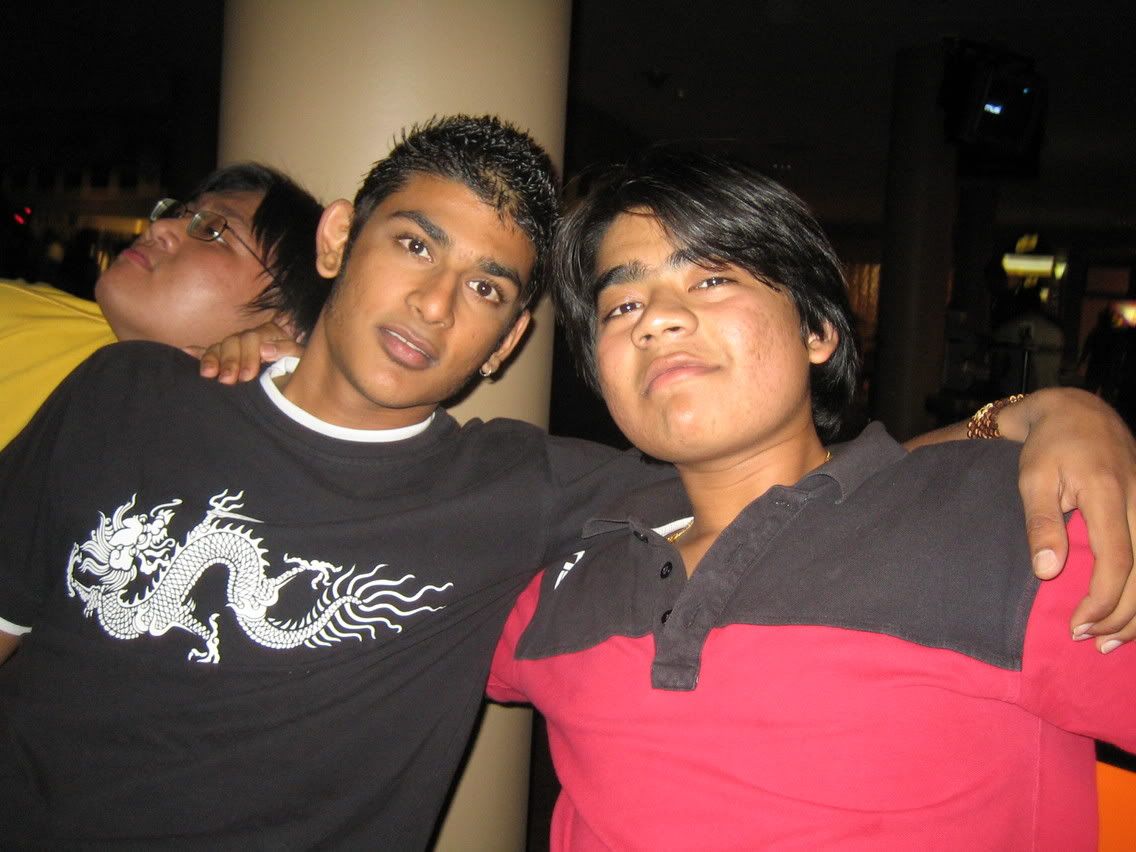 ::My Closest Buddy Nikhil Roy Joshi...Penchot!::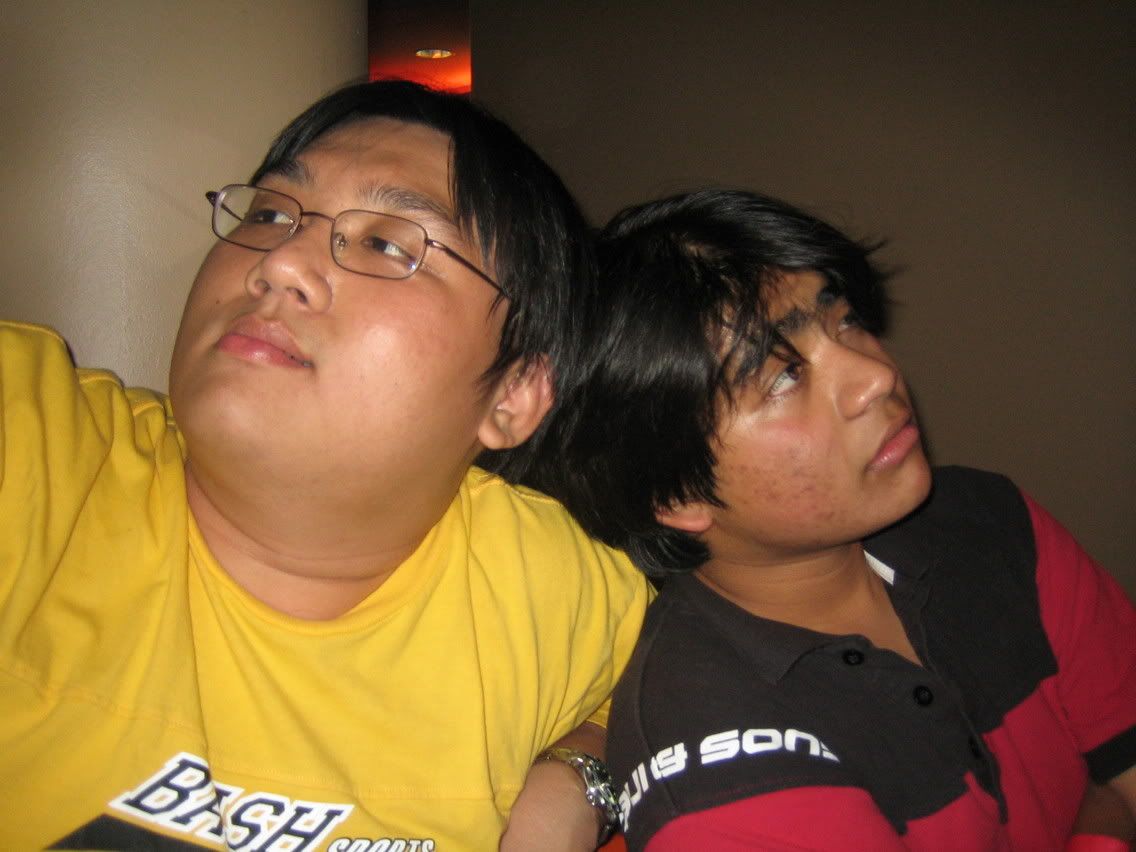 ::Foo-sball!::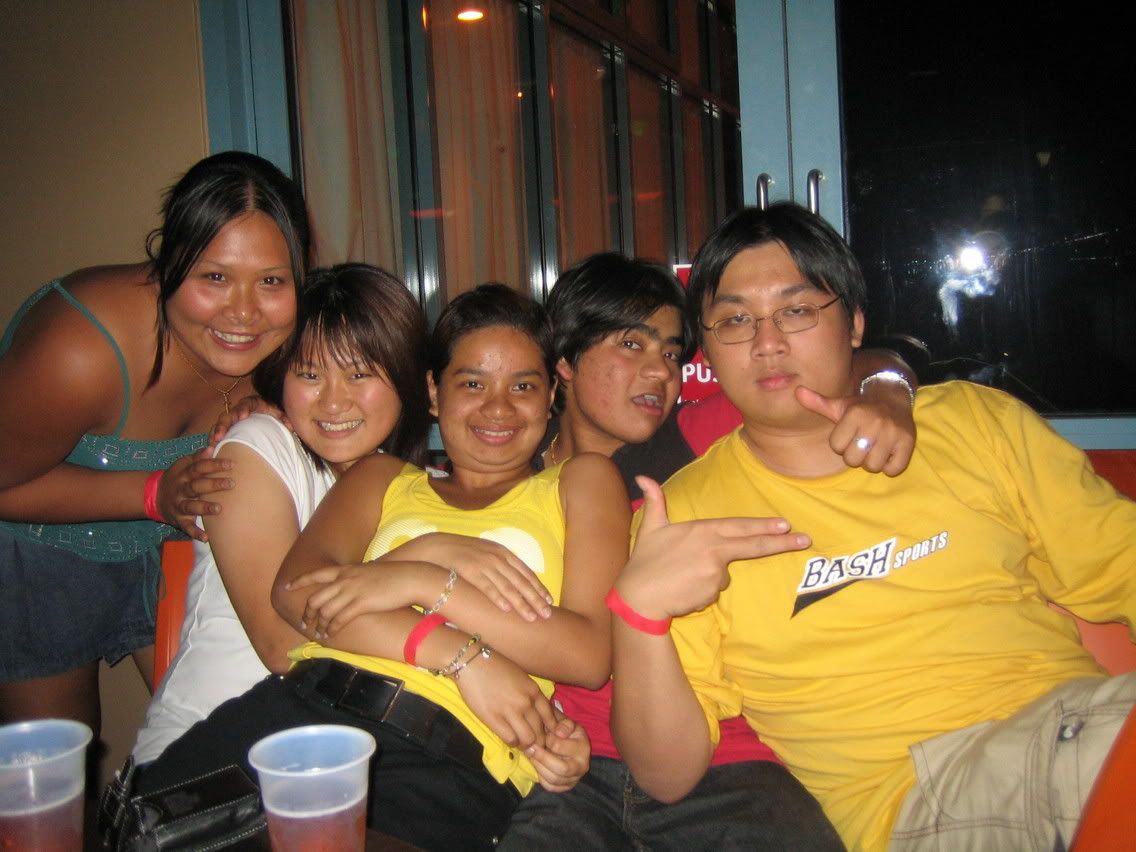 ::Josie,Serene,Bibi,
Moi,
Foo::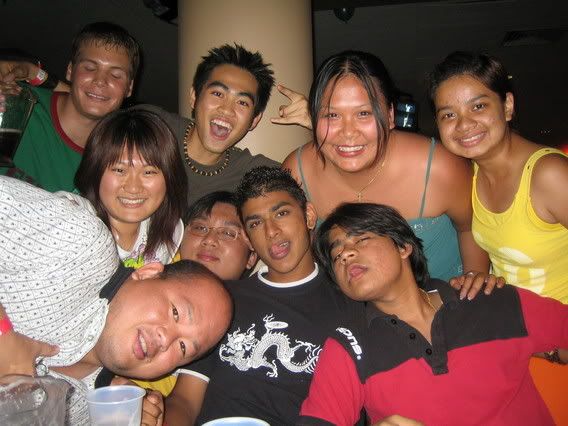 :: Top: Some random white fella, Lance,Josie.Bibi.
Bottom: Serene, Foo, Roy, Vinu and Raymondo!::
::The Return of the hairy Nipple!::
BYE PEoPLE... I hope You liked the pics... see you in a months time or
when i have something to blog about (unlikely) LOL...

vinu565
held on
@ 05:34 pm
Bloodline
Wednesday, February 09, 2005
To those who still visit this page...

Whishing everyone a prosperous and joyous Chinese New Year from down below and

also to those venturing to further their studies in Australia... All the Best and again..



Gong Xi Fa Cai





vinu565
held on
@ 12:27 pm
Bloodline
Monday, November 29, 2004
The day has arrived... it has come... no turning back, no running away, no more
avoidance... today is the day... BLACK MONDAY!
Before I indulge into the inevitable Black Monday, I'll recap the event occured
during last week:
WEDNESDAY, THURSDAY
Because I fell ill, at the start of the week, as usual,
moi
, the world's most renowned
procrastinator, work negator, the all together slackest bludger anyone could ever
meet, did not do his Criminal B Assignment. Until Wednesday approached and
needless to guess, the deadline as usual was in 24 hrs. Well, now we start talking
panic, fear, anxiety all kicks in which was furthermore catalysed by 2 cans of red bull
but even so, this slacker here, did not start writting till about 9pm. NINE PM!, man
this is the latest ever that i have begun an assingment, and due time ... 17hrs to go!!
9pm - started working
10pm - done 300 words
10.30pm - apocalypse arrives along with the grim reaper... NIMI
From then on to 7.30 in the morning... she never stopped talking!! oh my god,
I have never ever would ever had though to have met such a loquacious person,
the ramble on queen, undisputed maharani of talk, the sultannah of bullshit... man
even my female friends back home would probably tear blood and bow to her.
Anyways, again after my umpteenth pledge to not do last minute work for every
semester seemed to not work, so one word to sum it the pledge up as how every
malaysian would put it... FUCK IT LAH!! I got the assignment done, no sleep for 24 hrs,
very cranky, very hungry, and also despite 'the' NIMI... yeah it all ended well.
FRIDAY, SATURDAY
Yeah, my favourite part. Well after concluding the last of my final semester assignments,
I told my self and my new found friend Nikhil, to get pissed and thats what we did.
It was saturday, as any Uni student would love is to get up late and laze in bed. Got
my book out and read a couple of pages of the Da Vinci's Code. I get a call from Nikhil
to come over to the 'Ghetto' joint of Bond Uni.. the Blocks. We bummed around till
night fall, and we headed to get a bottle of Bundy and a bottle of Grants... doesnt
seem like much but we thought it was sufficient enough to get pissed. Headed to
the common room, got our dinner, watched the Seinfield marathon...-_- for a while
and started the booze...I almost obliterated the Whisky bottle myself, i gunned
down 3/4 of the bottle neat and the rum was pretty much gone as we were joined
by a couple of people,a Kosovo refugee dude, fucking awesome guy, 2 germans,
and a couple of aussies. The night was fun, well thats what i thought till i woke up
man could u imagine the hangover i was facing... it was like hearing an air-raid
siren in my head... I was literarily put in simple terms...FUCKED!
SUNDAY
Sunday? Sunday was rest day, Sunday was recuperation day... Still am suffering a
mini hangover from the session 2 nights ago as i am typing this. Nothing interesting
or out of the world occured except that I had dinner with the Finalist of the
Miss Hong Kong 1995, Julianna Lo... haha... yeah I did! Pretty nice person, she is
down here in the coast to play golf in a golf academy. Well, after an interesting
week, it comes down to the finalè....BLACK MONDAY!
What is BLACK MONDAY, you ask... a very well thought to ponder.
All I can say is that ... IT STARTS!
vinu565
held on
@ 11:37 am
Bloodline
Sunday, November 21, 2004
Celebrative Week... A Malaysian Fest and a Puke Fest
Woah, once again i am a month in delay with updates, and one month behind my
Finals... sheesh~ and because of this, im having a 3 day concurrent splitting
head ache -_-.. Never mind that, a couple of days ago was a successful night,
Bond Uni's MSABU(pronounced as MASABU) Pfffah.. fuks me... Malaysian Students
Assosiation Bond Uni [i think] organised a Malaysian Night. Well it turned out well,
considering that there were supposedly cultural protrayal of Malaysia to the
students here which consisted with candle dances, chinese dancing, malay
serenades o_O?? and dudes worst of all, a FENG TAU dance O_O... whats up
with dat? You're showing Bond Uni dat Malaysians act like complete boneheads
to music, that they react to music like potassium and water and not only that
showing it back to Malaysia as it was being recorded to be broadcasted in
Majalah Tiga... The thought of them still dancing still lingers in my mind...urghh
disasterous... For A$20 whish is now abt RM58... u gotta guess what i ate... this
dinner rivals up with my prom night.. i ate Jack Shit! Bloody curry chicken, beef
rendang which i definitely would not touch, saffron rice, and KETUPAT... WhATT~!
Two of the dishes which i already can cook and i had to pay almost RM60.. o_O!
and to add to the insult it was cooked by the Brasserie...well i shall not indulge
into degrading the brasserie here anymore as i have already done it in previous
entries. Yup! that was my night, couple of Tuan Hajis were present, Datuks, and
a phletora of other VIPs. The most amusing part in my night was seeing a couple
of singhs present constantly walking to the bar behind me for beers, pulling up
their already belted pants up higher above their belly... hehe... waht can i say
Malaysia truly asia...
::Kala, Priscilla, Me, Raymond::
===================
Moving on...
Last Night was Raymond's last night of cooking as he self proclaims -_-", well
i highly doubt we'll c the last of him in the kitchen... However, the food was
execellent, the taste had a je ne sais qoui which was undescribable or mebbe
it was just the MSG playing with me.. o_O. Anyways, we started doin all d preps
for the night, cutting onions, garli... *fast forward to 7pm*...guests arrived, and
started to RAIN... man, RAIN, heavens most valuable gift to man kind, Mother
Nature's most awaited thirst quencher, MY most awaited heat reducter...waoah
it wasthe exact feeling when i have that morning shit... something outta this world.
Ok.. lets not get to graphic... I picked up Priscilla and Chris frm Uni and met up
with Josie and Mary in the front lawn, and can u imagine not being able to park
in front of your own home... Bloody guests had to pard and obstruct my entry
to my residence... i ended up parking right near the main gate to the complex.
But that's not the end of my Black Saturday... i slammed my fingers on the sink
while washing hands, almost snapped my fingers again while decapitating the
chicken and yeah also burning my left hand with hot boiling fish soup.. oh wait
it doesnt end there, i also had to clean up Mr. Raymond after completely
blasting himself up with alcohol and puking all over his bed.. urghh... what a day
i tell you...sighz... well because of that, I'm still suffering a headache...HELP ME!!
arghh... Holidays come to me baby, I wanna go home~
vinu565
held on
@ 10:35 am
Bloodline

A rush of blood to the head? What is this ephemeral feeling, I feel? Someone please, release me, enlighten me!

.about.


A Personal Anecdote
Who am I? You really wanna know? The name is K, Vinu K... I'm an 18 year old boy with a legionce with the underworld *grin*.An ex-college boy who got his results and a bloody proud Johannian! Currently in Australia, more specific in Gold Coast pursuing a degree in law in Bond University, a dream come true for me. Wanna know more...juz ask me, I'll be glad to enlighten you more about myself.
~advocatus diabolus ©~
.:Blasphemy:.



::Important Dates::
14 August- Commencement of Exams
17 August- Exams End
19 August- Going for Holidays In Adelaide
7 September- Back from Adelaide Holidays
::Hell Spawns::
Hsin
Malcolm
Eisya
Chee Lim
Debbie
Lynndhia
Alvin
Lainie
Venon
Melissa
Victor
Douglas
Ronald
Swee
Chery Lee
Marissa
Kuan Ming
Jo Hong
Jean
Cheon
Wen Wei
.:Links:.
::I Can Be Contacted At::
ICQ
31125565
MSN MESSENGER
vinu565@hotmail.com
FRIENDSTER
vinu565@yahoo.com
Contact Me
.:Acknowledgements:.


I would like to thank blogdrive templates who provided a table for my layout.
Vontage